Do you remember where you were when you saw the "If you had my Love" Jennifer Lopez video for the first time? Well, I DO! And from that moment on I've been a BIG fan. The girl is amazing and has such a knack with style.
http://www.youtube.com/watch?v=kaG_U-PRLxA
Yup, I just watched it again and after all these years, it's still Freaking Cool!
I have to say, she is the real American Idol! I've always watched the show, but now I don't skip the intro any more because I look forward the seeing what she'll be wearing.
I know I'm not alone in my admiration for her because if you do a google search for Jennifer Lopez you get 115,000,000 results.
So this post is my tribute to J.Lo. I love you, I admire your fabulous style choices, and I wish we were friends!!!
Just a little side note. After she became J.Lo, I became L.Mo. I'm not even kidding. That's how much of a fan I am.
Here's to you Jenny on the block...
That smile, that HAIR! Maybe I should rethink doing Lily Aldridge hair and try Jennifer Lopez hair instead. Hummmmm...
Even though I could never wear this, I love the way she knows what works for her and how to wear it.
And her legs are amazing!!! Actually her whole body is amazing. She's an anomaly!
Hair up or down, she wears it well.
I had to include this picture. The girl knows how to move!
Seriously, who looks like this? WOW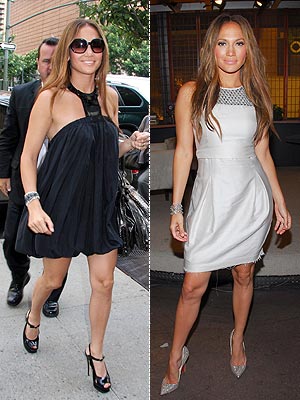 She's so glam! I love the way she marches to the beat of her own drum.
And did you know her fabulous style translates to her homes as well? Check this out...
I guess I should mention Mark Anthony since he is her hubby. I was one of the many who were thinking WHAT? I don't get it! But he recently did a guess spot on American Idol and I liked him in it.
He is in the same industry so I guess it makes since after all. They seem to be good for each other.
She makes a beautiful mother too
They seem to have it all. Good for them! Way to live the American dream.
Being part Mexican myself, I really love this Latin family's lovely life!