If you've been following my blog at all, you already know I have what I call a harmless obsession with Lily Aldridge. It all started when I came across this picture of her and fell head over heels in love with her hair. That's where the actual obsession began. I had finally found a new look I thought would work for me.
Anyways, I've been a big fan ever since.
Modeling for Victoria Secret has made her career by putting her in such a big spotlight, but I know I'm not the only girl feeling like I gotta have her hair. I get emails all the time asking me for more information about how to get the look and I love it! :)
As you can see here, Lily's body is what actually got her the contract modeling for Victoria's Secret ;)
This is Lily with her boyfriend Caleb Followill from Kings of Leon. They've been together since 2007 but in September 2010 Caleb proposed and they were married on May 12, 2011 in Santa Barbara at the San Ysidro Ranch.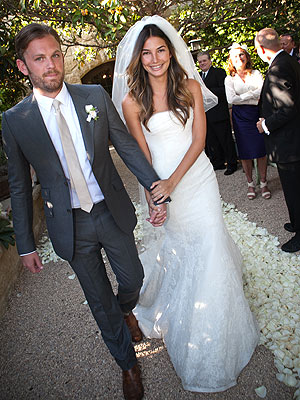 Aren't they adorable!! I'm in love with this look. Lily is wearing a Vera Wang dress and Caleb is in Gucci.
Here's a few pictures from their less formal weekend day reception at Church Estate Vineyard in Malibu.
I also love this casual look and I'm giving it 2 thumbs up in effortless comfort, while still being able to make me feel like I wish it was me in that dress.
And once again Lily makes me wish it was me in that outfit. Actually for these pictures mostly that I looked like she does in that getup!
These wedding looks are from a Victoria's Secret add. Hence the smile on Caleb's face down below.
And finally, here are the newly weds enjoying a night out in London.